Sui Generis is only made possible by crowdfunding, we successfully reached our funding goal on Kickstarter thanks to over 7000 people who supported us during the 30 day campaign. Because of this development is assured and we'd like to thank everyone who contributed to making this project a reality.

While that initial crowdfunding phase is over, we are still offering many of the same rewards via Paypal so you can still support us and help make SG a bigger, better game sooner!

Please visit our Contributions page to learn more.
Prelude Alpha Released
25/10/2014
Exanima is now in alpha. A prelude to Sui Generis, Exanima is a standalone dungeon crawler set in its underworld. Read more...
Combat Beta Released
12/07/2014
We released an updated version of the combat demo featuring a second arena to beta tier backers. Read more...
Combat Alpha Released
06/03/2014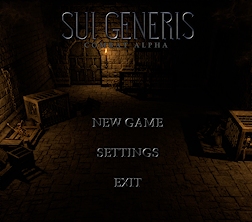 We released a first playable version to alpha tier backers. While only a combat alpha that is not yet representative of the RPG experience, this is a major milestone in development for us.
Read more...
Pre-Alpha Gameplay Video Released
17/11/2013
We released our first public video since Kickstarter. Showcasing pre-alpha gameplay, this 12 minute video was followed up with a short one that explains combat controls.
Development Video #3 Released
24/06/2013
We released our third exclusive development video. This video focuses on new features and improvements to core gameplay, physics and animations.
Development Update #2 Released
26/05/2013
We released our second public development update. This is a fairly major update covering a range of topics. Read more...