---This regards Sui Generis rather than Exanima, but I think they have shared forums (am i right?), also did not find 'suggestions' section, so I think it fits best here.---
From what I know so far, game is meant to have low fantasy settings (?) meaning: not having player super over-powered, no planetary devastation, no gods interfering (if there are any), no make-that-mountain-go-poof-spells and so on.
We do have however zombies (yes, yes i know), animated bones, trolls, ogres, some golem-like constructs (at least thats what the big armored guy from the trailer looks like) and such.
And we have VERY climatic atmosphere. Nice, dark, gloomy and believable. No cartoony-sugery-kawai-chibi-cute-flashy-edgy-teens-swinging-3meters-long-swords-and-littlegirlswithtailsandfurryears- bullshit *hate spit*.
So why not make use of that?
And you know whats even better than undead, ogres and golems?
<.<
huh?
>.>
huuuuh?
DEMONS!
C'mon, when was the last time YOU played a game, that had a demon fight in it? A proper fight, with a proper demon?
Not some lame and distustingly bland excuses for demons, that look like random things lying around blizzard's office, glued together and made into ingame monster (look D3)
Not some wimpy-way-over-top-too-spiky wannabe demons (look diablo in D3)
Not some overgrown insect-like demons (look Dominus in path of exile, he is not technically a demon, buy u get my point)
And not some frog-dog hybrid/mushroom/flying geenie/whatever else thats not badass enough to be a demon demon.
When did you last have a real battle with a true, humanoid demon?
One with humanoid body, arms,legs (hooves and goat legs are ok), with a tail, horns, humanoid face and wings?
Like this
or this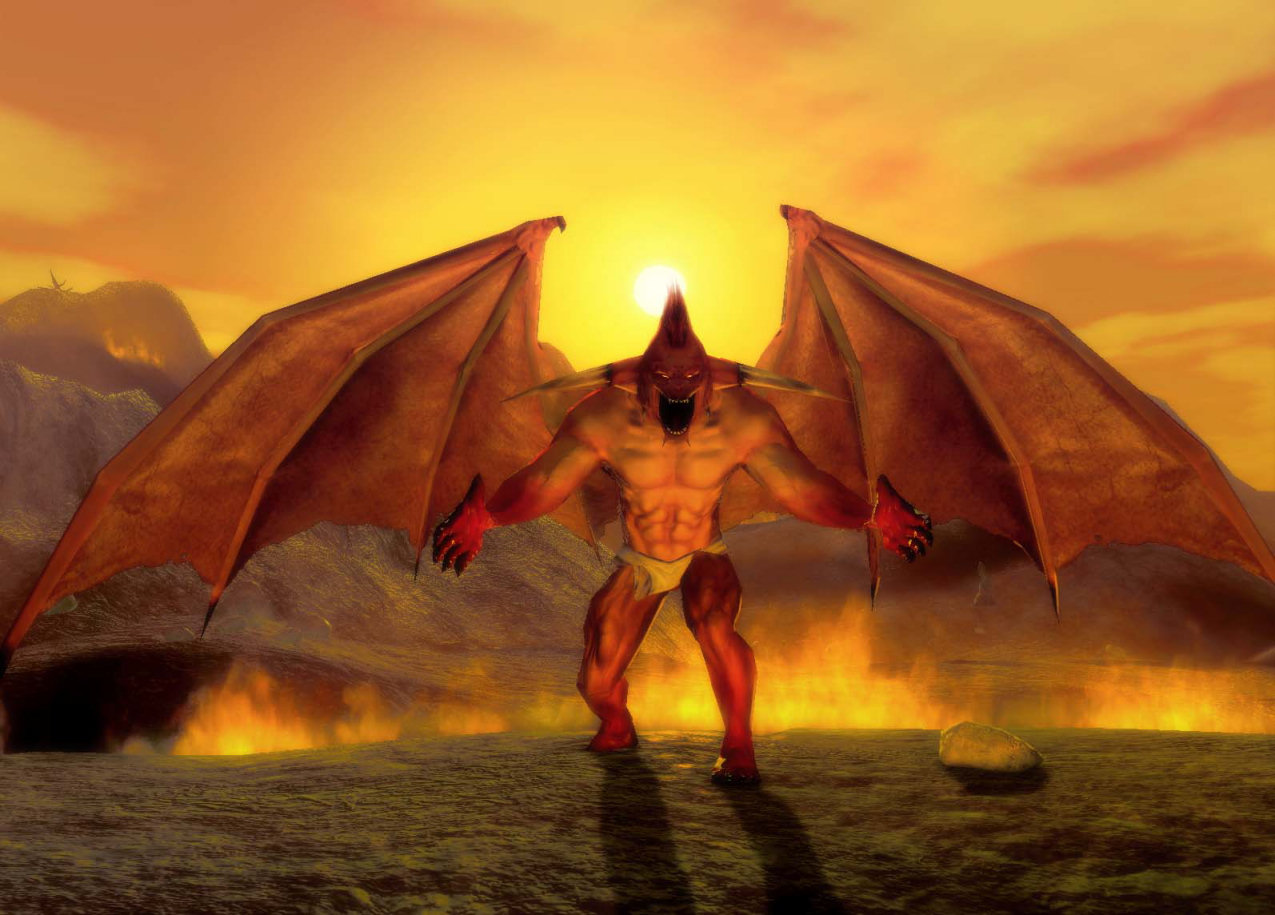 or this
or this
or this
or this
or this.
You should know what I have in mind by now. I can't be the only one missing demons from the gaming days of old. Most new games try to so innovatively creative, it hurts. Especially when it comes to monsters. And I have a feeling this one doesn't approve ridiculously overdesigned creatures.
So here is my suggestion: There could be some optional questline, which could require the player to find some hints to unveil, that could end up meeting a powerful demon, lets say in some lair, or maybe beyond some portal in a nice dungeon. There you could try to be that bland and boring hero, try to destroy it - most likely die in the process- and send it back to where it came from (how do you even kill a stronk demon in the first place?). Then maybe take his badass sword, only to find out (upon touching it), thats it's cursed and now your soul is f****d. Or based on how you played the game (a powerful demon should be able to identify your character/intentions) be able to side with it and do something evil for it (thats will surely make you feel good about yourself). You can lead a group of cultists to burn a village, kill every man that opposes you, take women as slaves and all the babies from the village. Then you can take those babies and slit theirt throats yourself, spilling the blood on the demon's altar. (feels good already, doesn't it?) In return you're granted some 'infernal power' that comes with a cost not mentioned earlier. Your body fuses with demons essence, making you bigger, stronger and MUCH more powerful in combat (tearing those dumb skiellies apart with your bare hands) but also deforms your body, so you have to hide it, or all humanoids attack you on sight. (and also being prone to mind control from the said demon if need be). It could make you regenerate lethal damage but also render impossible to wear normal armor (plate at least), since you no longer fit into it. So you would have to make something else to cover your body in combat.
What do you think guys?